Plan and Practice Your Escape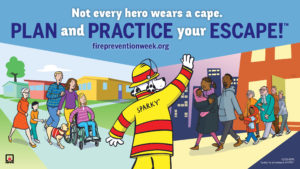 It's National Fire Prevention Week and we want to help you Plan and Practice your Escape because not every hero wears a cape. LPFPD4 has listed some simple steps to help you get your escape plan together:
Start by walking around your home and noting all potential exits. You want to have more than one exit point for any location. in your home. Consider moving furniture that may be blocking windows. Windows turn into potential lifesaving exit points during a fire.

Make sure your home has smoke alarms, test them to be sure they are working.

Decide on a meeting place outside your home. It should be in front of your home but not to close to the road.

Make sure your address can be seen from the road.

Make sure everyone knows what number to call in the event of a fire 9-1-1.

Draw out your escape plan and practice!
For more information, download the NFPA's Escape Plan Guide and Checklist.