LPFPD4 hosts third annual hurricane preparedness seminar
National Weather Service Forecaster Mike Efferson and Local Meteorologist Jay Grymes share 2019 hurricane forecast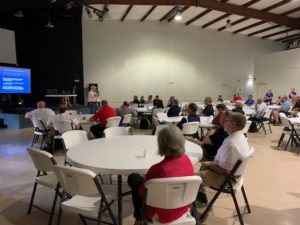 The Livingston Parish Fire Protection District 4 (LPFPD4) hosted its third annual hurricane preparedness seminar for emergency response personnel on Wednesday, May 23 at the Walker Baptist Church. This year's seminar included 2019 hurricane predictions from National Weather Service Forecaster Mike Efferson and WAFB-TV Channel 9 Meteorologist Jay Grymes, as well as a multi-agency emergency response training exercise led by LPFPD4 Training Officer Keesler Fly.
Efferson and Grymes addressed the anticipated activity of the season, initiatives to boost forecasting, and information on how people can prepare for the 2019 hurricane season, which will begin June 1.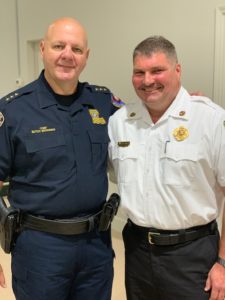 Multi-agency communication was a major focus of this year's seminar as Livingston Parish Sheriff Jason Ard and Livingston Office of Homeland Security and Emergency Preparedness (LOHSEP) Director Mark Harrell shared lessons learned from past recent tropical storms and hurricanes. Sheriff Ard and Director Harrell both encouraged first responders to focus on their internal and external communication procedures as they continue preparations for the hurricane season.
New to this year's seminar was a tabletop training exercise that emphasized problem-solving during emergency situations. The interactive exercise led participants through emergency asset management, resource allocation, communication, and emergency plan development.
More than 20 local agencies participated in the half-day seminar, and their attendance demonstrates their commitment to public safety as hurricane season begins.
"We've learned a great many lessons from the past weather emergencies in Livingston Parish,"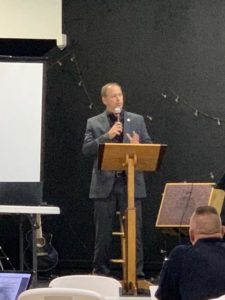 said LPFPD4 Fire Chief James Wascom. "We've done many things right and some things wrong, but we're constantly applying lessons learned and looking for ways to improve our emergency services and ensure that all first responders are informed, trained and ready to assist our citizens."
Livingston Parish Sheriff Jason Ard added, "Multi-agency communication is integral to the success of any emergency response. When all emergency centers are working cohesively, we can accomplish our shared goal to protect and serve our residents."
To facilitate multi-agency communication, the LPFPD4 has constructed a command center located at the LPFPD4 headquarters, 9760 Florida Boulevard in Walker.
"We're enhancing our communication strategies in the event that a storm does threaten Livingston Parish," said Wascom. "We will be ready to serve and protect our residents."